Boss_
shieldsmonitor

addon
Features:
Monitor shields (how much they absorb) on ALL Cata boss encounters, where you have to bring them down.

Also shows "Blackout" on Valiona for healers.

Also tracks "Searing Plasma" debuff on Spine of Deathwing. Also can show this info in your GRID if you use modification version of GridStatusShield (you can find it here) + need to set it in grid options "/grid -> Indicators -> Text in center 2 (for example) -> Shield left".

Some shields, such as shield of Magmatron are disabled by default, you can enable them using PhoenixStyle addon.
/bsm or /shield - to open menu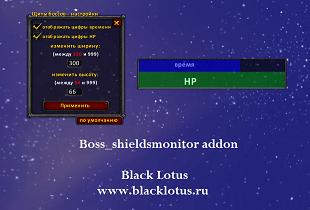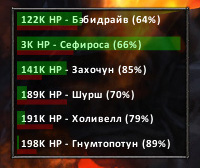 Youtube example:
What do you think about Boss_shieldsmonitor: